Tasmanian swimmer Jacob Templeton was delighted to mark his long-awaited international return with a bronze medal at the Commonwealth Games in Birmingham.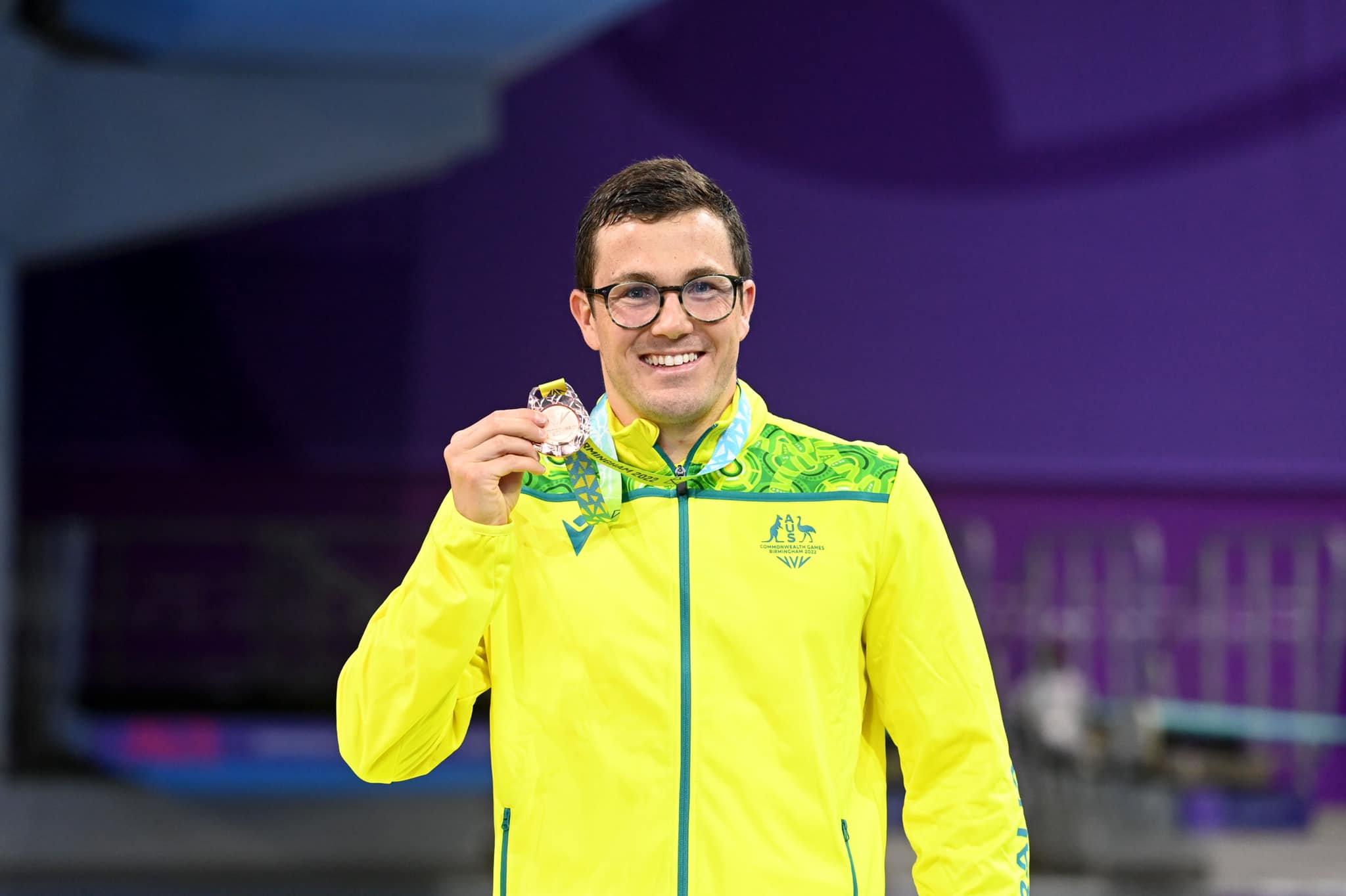 Photo Credit: Commonwealth Games Australia
One of three Australians in the five-man final of the S13 50m freestyle for vision-impaired swimmers, the Devonport 27-year-old finished behind Canadian winner Nicolas Turbide (24.32) and Scot Stephen Clegg (24.33) in a time of 24.47.
"I'm stoked," Templeton said.
"It's a funny thing with the vision impaired races that you have no idea how you're going so to hear that I did basically a PB and to pick up a bronze is just amazing.
"It's hard to know how to react when you don't know how you went. It would be amazing to know if you had an amazing swim to be able to celebrate in the moment but to get out and have a bit of a delayed reaction is also pretty cool in itself."
Having contested Para World Championships, Paralympics and Pan Pacific Championships but narrowly missed selection for the Tokyo Paralympics having achieved the qualification criteria, Templeton was delighted to be back in green and gold.
"It's been really hard. In 2019 I missed out on the world champs by 0.3 of a second and last year I actually qualified for the Paralympic Games but I wasn't chosen, so it's been four years since I've been on an international team so it does feel like I belong here and I suppose it shows putting a bronze medal on the board.
"To motivate me I like to look backwards and forwards. I like to look back at the things that were a bit of heartbreak and then look forward to moments like tonight when I just want to win a medal. I'd like to win a gold, but to win a bronze is amazing. I like to use both those things to keep me grounded and I knew that I wasn't done yet so I had a bit of a vengeance and something to prove."
In a departure from his hectic program at the 2016 Paralympic Games in Rio de Janeiro, the Queensland-based swimmer had just one event available in his classification in Birmingham and admitted it didn't afford much thinking time with the entire field at Sandwell Aquatics Centre separated by just 0.58 seconds.
"I'd been training so well but to dive in and have five guys that are pretty much bang on with each other, things are a little bit different so you try and pretend it's a training race and that helped to calm my nerves a little bit and it did feel pretty good.
"I try and think about one or two skills but you don't want to over-think especially in a sprint and for me it's just ripping and ripping as fast as I could with as good technique as I can."
A former Nixon Street Primary School and St Brendan Shaw College student, who was born with the degenerative eye disease retinitis pigmentosa, Templeton began swimming with Devonport Aquatic Club before moving to Queensland but said he had been closely following the success of his home state in Birmingham.
"We're doing pretty well. I've got to keep up with Ariarne as the other Tassie swimmer so I've got my work cut out for me there. I think I'm the only para swimmer on the team from Tassie so to fly a few flags there is pretty cool.
"I know Arnie of course because I train with her occasionally back in Tassie but I know there's a lot of other Tassie athletes here and it was actually pretty cool to see Eddie Ockenden being named flag bearer, that was pretty awesome. I was telling all my swimming mates: 'He's Tassie'."
Rebecca Van Asch's hopes of another women's four gold medal ended with a 16-9 loss to Scotland.
With one win, one draw and one loss from their three matches, the Aussie team of Kristina Krstic (lead), Lynsey Clarke (second), Van Asch (third) and skip Natasha van Eldik finished third in their pool and missed out on Sunday's quarter-finals.
Having begun their campaign at Victoria Park with a 15-15 tie with Botswana, the Jackaroos quartet beat Fiji 16-10 before going down to Scotland on Saturday afternoon. The Aussies twice went four ends without scoring as the Scots came from 3-0 down to build a healthy lead.
Van Asch, 34, of Invermay, will also be defending a gold medal in the women's triples.
Triathlete Jake Birtwhistle is in confident mood about Australia's chances of retaining their mixed team relay title.
The Tasmanian had the honour of completing the anchor leg when the host nation won the event's inaugural gold medal in 2018.
Despite a change in format that prevents him playing the same role in Birmingham, the Launceston 27-year-old believes Australia is well placed for more success.
Birtwhistle and Matt Hauser finished fourth and third respectively in the individual triathlon on Friday before compatriots Sophie Linn, Charlotte McShane and Natalie van Coevorden finished fifth, 11th and 14th respectively in the women's race, suggesting a strong depth to the Australian talent pool.
"We should have a really good team for the relay and I'm really looking forward to it," said Birtwhistle, whose combined Commonwealth Games results to date are first, second and fourth.
"Obviously we've had a lot of success in the past, highlighted by the last Commonwealth Games, so we're really looking forward to be able to go back and hopefully be able to recreate that result.
"We'll be ready to back up again on Sunday and hopefully get another medal."
Sutton Park will be a busy place for Tasmanians on Sunday with Hayden Armstrong operating as a sight guide for Queenslander Gerrard Gosens in the men's para triathlon for the vision impaired at 11.01am five minutes before fellow Hobartian Erica Burleigh contests the women's event with the mixed team relay final following at 2.31pm.
As Burleigh prepared to make her Commonwealth Games debut, she reflected on the terrifying and inspiring experiences which signalled her journey to Birmingham.
Twenty-two years after losing most of her eyesight and nearly her life to meningococcal, Burleigh found herself inspired by Ariarne Titmus's phenomenal Olympic exploits and just a year later joins her fellow Tasmanian on an Australian team.
"I was certainly inspired by Ariarne - what she achieved in Tokyo inspired me to get into it and I wanted to follow her and become a swimmer, never thinking I would become a triathlete," she said.
Born and brought up in Hobart, Burleigh was a healthy 17-year-old, training to be a beauty therapist when her life was turned upside down.
"I'd been at a party and was feeling sick," she said. "The next day I felt really sick. I went to the doctor who said it was a bad case of flu.
"I ended up in hospital and while there I fell into a coma. My mum told them I had a really sore neck which is a symptom of meningococcal meningitis and from then they treated it as that. They kept me in a coma on life support so I could fight the disease and my parents were told I might not survive.
"Three days later I came out of the coma but could not see properly. They said when the brain swelling went down I would be able to see again but that did not happen. It had killed the optic nerve and you cannot regenerate nerves. I now have one per cent vision in my right eye and about 11 per cent in my left.
"It changed my whole life. I had just got my driver's licence and I had to give that up and sell my car. I had to quit my job and my beauty therapist course. It probably took about a year to get back into good health and decide what to do with my life.
"I could either sit down and feel sorry for myself or get up and get on with things. Fortunately, I'm the most independent person there is and it helped that my parents didn't treat me any differently."
Assorted work experiences led to a job in a call centre and eventually to where she now works as a quality and safeguards commissioner with the National Disability Insurance Scheme.
Watching Titmus become a double Olympic champion in Tokyo provided the inspiration, Hobart's Try a Tri group added the motivation and second-place finishes at the Oceania Triathlon Para Cup in Devonport in February and Oceania Triathlon Para Championships in Stockton two weeks later saw Burleigh named as one of four Australians set to compete when the vision-impaired para triathlon debuts at the Commonwealth Games.
Along with sighted guide, 19-year-old Queenslander Felicity Cradick, Burleigh will contest the triathlon sprint distance of a 750-metre swim, 20km ride and 5km run on Sunday morning at Sutton Park, a nature reserve 10km north of the city centre and one of the largest urban parks in Europe.
Having ticked off one of many sporting goals, the 39-year-old has several more lined up.
"I really enjoyed ocean swimming and want to compete in the open water series starting in November," she said. "I was scared of sharks but you have a lot of people around you plus it makes you swim a bit faster.
"After that I want to go to para tri worlds next year and the Paralympics in Paris in 2024."
Launceston track cyclists Josh Duffy and Georgia Baker will both seek to add to their medal haul at Lee Valley Velodrome on Sunday.
Duffy, 22, will compete in the second heat of the men's 15km scratch race.
Fresh from being a part of Australia's bronze medal-winning team pursuit, the Launceston rider will wear no.3 in the race beginning at 12.29pm. The final is scheduled for 6.42pm the same day.
A day after winning team pursuit gold, Baker, 27, and fellow Australians Chloe Moran and Maeve Plouffe will contest the women's 25km points race final at 3.53pm.